Welcome!
The BRT Planning Guide, 4th Edition
The Bus Rapid Transit Planning Guide is the most comprehensive resource for planning a bus rapid transit (BRT) system, beginning with project preparation all the way through to implementation.
Beginning with an overview of BRT, the Planning Guide proceeds to give a step-by-step description of the planning process, including operational design, financial modeling, physical design, multi-modal and land use integration, business plan development, communications and marketing, contracting, vehicle and fare collection technology, evaluation, and implementation.
The BRT Planning Guide is intended as a guidance document mainly for planning and engineering professionals. However, others, such as non-governmental organizations, national and regional policymakers, and business groups, will find it a valuable resource as well, when advocating for their issues and finding solutions to the problems that they are addressing.
About
The Online BRT Planning Guide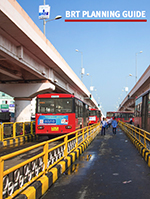 This edition is the culmination of years of efforts to document and improve the state of the art in cost-effective public transport solutions for cities. It includes contributions from a wide range of professionals and practitioners with direct experience in designing and implementing BRT systems all over the world.
BRT systems have proven to be catalysts in transforming cities into more livable and human-friendly environments. The appeal of BRT is the ability to deliver a high-quality mass transit system within the budgets of most municipalities, even in low-income cities. Planning and implementing a good BRT system is not easy. This guide aims to make the task a little easier.
Volumes
The chapters of the guide
The chapters of the guide are grouped in volumes. Within these volumes are 33 chapters that touch on a variety of topics essential to the planning of a BRT system. Content has been expanded based on recent projects, which have deepened the base of knowledge for this guide.
Volume 1 lays the groundwork for initiating a Bus Rapid Transit (BRT) system from the initiation of a project to sparking real momentum that will bring the project into reality.
Volume 2 runs through the necessary preparations and calculations needed to plan out the operations of the BRT project in order to optimize its service frequency, capacity, and ridership.
3 Communications and Marketing
Volume 3 details the necessary steps to building a communications strategy to be used for engaging the public with the BRT project, educating customers on how to use the system, and marketing the project to a wide array of potential users.
Volume 4 looks at the necessary planning required to ensure the financial stability and success of the business of running a BRT system.
Volume 5 provides details on a number of technological systems that are required to all work together in synchronization for a BRT systems to run smoothly.
Volume 6 provides detailed guidance on the physical infrastructure that are required of a BRT system as well as their management and costs.
Volume 7 goes into the potential for BRT to extend beyond its stations, vehicles, and corridors, and compound its environmental, social, and economic benefits to the greater transport network of non-motorized transit, while encouraging effective transportation demand management and transit-oriented development.
Volume 8 presents the goals and functionality of Online BRT Planning Guide.
Download
PDF version
We are excited to have this version online. This will allow for more dynamic updating and more involvement from the community.
We are also developing a PDF version for download and use offline.